Contact The Wedding Ladies - CT Justice of the Peace
The Wedding Ladies invite all couples desiring to have a complimentary wedding consultation about their upcoming nuptials to contact them via email, phone, or by completing the form below. (The Wedding Ladies' wedding calendar fills up quickly so couples are asked to contact the Weddings Ladies as far in advance of their wedding date as possible.) Wedding consultations are conducted at the Wedding Ladies' Little Wedding House in Middletown Connecticut but may also be held via telephone if time is of the essence or the couple is unable to travel to the Little Wedding House due to distance or work obligations. Please note: A non-refundable fee to 'save the date' is required when the couple reserves the Wedding Ladies as their wedding officiants. Typically, the fee is paid at the time of the wedding consultation. The Wedding Ladies do not accept credit cards.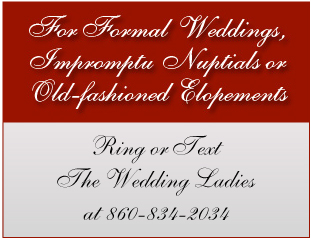 Email Lea at [email protected] or ring 860 834 2034.
Please note: To be married in the State of Connecticut, the law requires that the bridal couple obtain a wedding license in the city or town where the ceremony will be held. Also, no witnesses are required at the ceremony. Once you have your wedding license, The Wedding Ladies will be delighted to officiate at your wedding. Thank you.