Same Sex Weddings...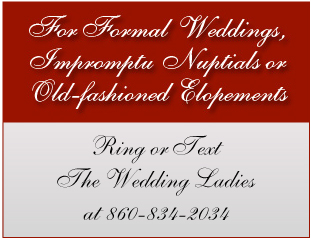 The Wedding Ladies are great believers in love, and to that extent, welcome all couples who wish to make a commitment to each other. It is as simple – and timeless - as that. We have officiated at all manner of same sex weddings. And look forward to officiating at many more.

Be it at our little wedding house or at a venue of your choosing, the Wedding Ladies look forward to helping you celebrate your commitment to each other.
Kind words……
The Wedding Ladies married us at their Little Wedding House. It was just the two of us and a handful of friends. Everyone commented afterwards how breathtakingly beautiful the ceremony was. There was not a dry eye in the Little Wedding House when we exchanged our rings.
T.O., Middletown CT
We were married by the Wedding Ladies at Saybrook Point Inn in Old Saybrook, CT. The evening ceremony was just as we imagined it would be: the Wedding Ladies personalized our vows so that we each read a meaningful passage to each other and even had our parents read a poem by Keats. The Wedding Ladies made our day that much more special. We cannot recommend – or thank them – enough!
J.A., Old Saybrook CT
The Wedding Ladies have such a keen eye for the details. We are so happy we had them officiate at our wedding at the Inn at Middletown. Tasteful, dignified, and romantic, the vows we recited to each other still echo in my mind.
B.L. Essex CT