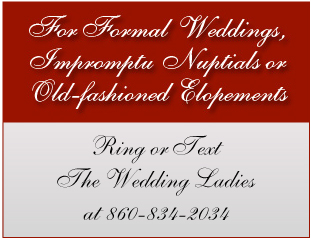 About Eleanor, better known as "The Wedding Lady of Middlesex County"...
Eleanor
(1929 – 2016)
Justice of the Peace Emeritus
Eleanor became a Justice of the Peace upon the death of her late husband, Henry, who himself had been a Justice of the Peace for many years here in Middlesex County, Connecticut. When he died on April 9, 1988, she decided to carry on his work, pick up the mantle and do weddings of her very own.
She officiated at hundreds of weddings throughout Connecticut and considered it an honor and a privilege to be such an integral part of so many couples' special day. She prided herself on giving each ceremony that dignified, tasteful, and personalized touch that each couple deserves – one that reflects their uniqueness as a couple and as individuals. This is why couples continually sought her out to officiate at their weddings and the reason she was known as "The Wedding Lady of Middlesex County."
About Lea, a second generation Justice of the Peace and present "Wedding Lady of Middlesex County"...
I am so honored to be continuing on the family tradition by becoming a Justice of the Peace and officiating at wedding ceremonies here in Connecticut. How lovely it is to work with couples to create a unique ceremony, one that encapsulates all their hopes and dreams for their future together. I welcome the traditional as well as the more adventurous and unconventional among us. Thinking outside the box is a particular specialty. A bit of the modern mixed with the timeless, this is why I am proud to be known as the other half of "The Wedding Ladies of Middlesex County."
Getting married in Middletown, CT?
If you are being married in Middletown, Connecticut within the next 65 days, we encourage you to use the Online Marriage Application.
Simply click on the above link, fill out the form and hit submit.